Problem gambler avoids prison after £55,000 embezzlement
20-01-2013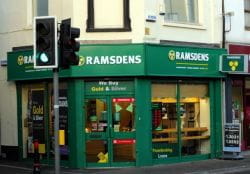 An online gambler from Cleethorpes stole about £55,300 from the Ron Ramsdens shop where he worked. James Jennings embezzled the money to finance his gambling habit. The 42-year-old shop worker had built up debts of £78,000 due to his online gambling addiction. On one occasion he lost £1,800 playing online poker. Jennings has been found guilty of fraud, but avoids prison sentence.
Online gambling loss of £78,000
The Cleethorpes resident first cheated his bosses out of £36,661 in 2011, while also stealing £18,715 in the first quarter of 2012. According to court documents, the embezzlement came to light due to suspicious refunds. Jennings admitted he had lost about £78,000 at an
online gambling site
. The store employee also used family savings and bank loans to feed his gambling habit.
200 hours of community service
Jennings has been sentenced to a one-year suspended jail term, in addition to 200 hours of community service. He also has to pay restitution of £300 to the company where he used to work. This implicates that Ron Ramsdens has to write off the stolen money or file a civil lawsuit to recover the embezzled money.