Prison sentence for stealing gambling addict from Wales
17-12-2015
A company credit card can be quite tempting, especially if you're struggling with a gambling problem. Meet Elizabeth Fawcett, who is every other inch a gambling enthusiast.
Her favorite pastime became an obsession
, and the 53-year-old woman from Wales now has to live with the consequences.
Severe gambling problem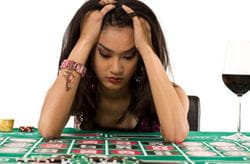 Fawcett stole nearly £40,000 from the company where she worked as a personal assistant. She used the firm's credit card to feed her gambling epidemic. Indeed, the 53-year-old
gambled away a whopping £1,000 on a daily basis
. The embezzlement occurred in 2013, including fraud with flights for her bosses.
Easy money
It's not the first time that Fawcett has to appear in court. Twelve years ago, the woman from Wales was sentenced for
stealing money from another company
. Fawcett confessed everything after her arrest. "It all started with an innocent slip-up, but it made me realize how easy it was to steal money from the company", she stated in court.
£30,000 gambling win
Fawcett claimed that her severe
gambling debts had triggered the embezzlement
. Besides losing staggering amounts on gambling, she also enjoyed some wins every now and then. On one occasion, Fawcett scooped a stunning £30,000 in cash. The 53-year-old Welsh woman has been sentenced to an 18-month jail term.