Prison sentence for Northern Irishman problem gambler
31-03-2015
A man from Castledawson (Northern Ireland) is set to spend 20 months behind bars thanks to his gambling addiction. Cormac McGuckin became desperate after his debts had mounted up as a result of his gambling obsession. The 29-year-old Northern Irishman stole money from a pensioner, totaling up to
nearly £17,000
.
£10,000 overdraft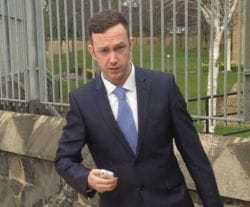 McGuckin was found guilty of theft and fraud. The
gambling addict
managed to convince a pensioner to give him blank checks. McGuckin used those checks to transfer money to his private account. The fraud was discovered when the pensioner's account was overdrawn for more than £10,000.
Desperate due to huge debts
The Northern Irishman came clean during police interviews. Besides
gambling debts
, McGuckin had also wedding debts, which was another motive for the crime. The 29-year-old problem gambler even impersonated a police official in an attempt to defraud a wedding shop. The judge also ordered McGuckin to complete an addiction treatment program.