Police arrest illegal gamblers on Westminster Bridge
01-07-2012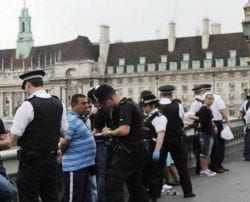 A group of Romanian illegal gamblers have been detained during a raid on Westminster Bridge. London Police had hired a double-decker to surprise the gambling gangs who scammed passers-by on the bridge. Officials from the Safer Transport Command observed the illegal gambling operations for 5 hours before the raid started.
Fraudulent games
The operation was almost cancelled when several possible gang members discovered the double-decker waiting near the bridge. Despite other obstacles, the officers managed to
arrest
25 Romanian swindlers. They were disguised as artists and offered passers-by fraudulent gambling games.
$200 in 90 seconds
Police officers seized cash money worth hundreds of pounds, in addition to gambling equipment. Nine gambling gangs operated on the bridge in the last weeks. They offered fake dice and three-card monte games. Tourists have lost hundreds of pounds, according to undercover agents. One gang member managed to scam an American resident for $200 in only one and a half minute.