Philippine authorities destroy 214 gambling machines
23-12-2012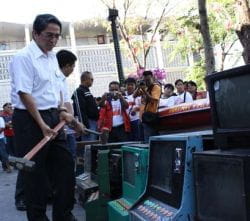 Approximately
214 gambling machines
have been confiscated during a 3-month operation in Cebu City. All so-called 'moli-moli' and 'video karera' machines worth about $58,344 have been destroyed. A Cebu City Police spokesperson revealed that it was the largest seizure of gambling machines ever.
Police agents fired
Cebu City Police smashed the gambling machines to underline their crackdown on illegal gambling. Cebu City Police have fired several agents after they failed to ban illegal gambling. Osaka Police also seems to crackdown on illegal gambling as they recently
shut down an illegal casino
.
Crackdown on illegal gambling
Two suspects have been arrested during the illegal gambling raids in Cebu City. Police officers recovered a sum of $3,233 in cash, in addition to several gambling related items. About three weeks ago, Philippine authorities started to intensify their efforts to ban illegal gambling. They had received information on several illegal gambling activities, which sparked the raids.