Pastor addicted to virtual roulette gets prison sentence
15-06-2016
Gambling is an extremely fun pastime, but things get tricky if it becomes an obsession. Graeme Bell certainly found out when he lost control over his
increased fondness for online roulette
. The 41-year-old pastor has been given a ten-month prison sentence.
Church money used for online roulette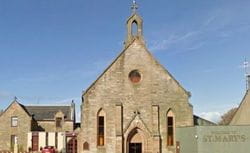 Bell served as a priest at St Mary's in the Scottish town of Saltcoats. He was barred from performing his parish duties after police discovered that the priest had stolen money from the church. Bell used the parish funds, amounting to £96,000, to enjoy
roulette
on the internet. The theft came to light in 2015 after the church reported a case of possible fraud to the police.
Surprised and upset
Parishioners were shocked and perplexed by the fraud, and they wonder if Bell will pay back the stolen money. At the same time, the churchgoers are frustrated by the fact that their former
priest was able to steal the cash
without anyone finding out. They feel that both Bell and the St Mary's parish should make apologies for the course of events.