Operator of illegal gambling den killed during armed robbery
02-12-2013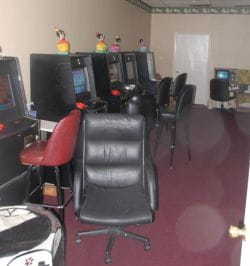 A grandmother who managed a clandestine gaming venue was killed in Anderson, South Carolina. Three armed robbers were waiting for Dorothy Hendrix to arrive at her house, Anderson County Sheriff's Office said in a news release. The
76-year-old woman died in the shootout
that followed.
Planned robbery
The criminals assumed that the operator of the underground gambling hall kept revenues at her home. For that reason, Anderson County Sheriff's investigators believe that the trio had planned the
violent robbery
. One of the attackers, 33-year-old Steven Benard Hagood, was injured during the incident, but he survived the shootout.
Armed robbers arrested
Witnesses heard shots from the direction of her home, and they saw two men fleeing from the house. Anderson County Sheriff's Deputies arrested two African-American suspects, who were identified as Tereba Racquel Geer and Bradacious Terrell Galloway. After a similar incident two years ago, Hendrix carried a
firearm in her purse
, which she used during the shooting incident.