Nun with gambling problem accused of theft
06-11-2012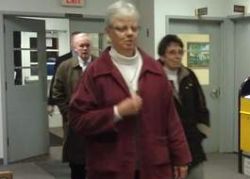 Sister Mary Anne Rapp has been accused of using church money to feed her gambling addiction. The New York nun allegedly took $128,000 from 2 churches where she worked. According to court records, Mary Anne Rapp stole the money from the St. Mary and St. Mark churches. In August, we reported about a
gambling-addicted manager
who stole $300,000 at work.
Gambling-addicted nun
"Mary Anne Rapp is a long-serving nun with a heart of gold. She has always been an exemplary citizen who dedicated her life completely to God," according to her lawyer. The theft was discovered after a routine check by a new priest at the two churches.  She stole the money over a period of 4 years. Sources revealed that Mary Anne Rapp used the stolen money to gamble at casinos.
Impact of theft
The New York nun was suspended in early 2011, and resigned a few months later. Approximately 600 families visit the two churches where Mary Anne Rapp used to work. It remains unclear how the incident has affected both churches. It's likely that a theft of this magnitude will have a massive impact on the financial situation of the two linked parishes.