New proposal could allow slot machines at Pennsylvania airports
26-06-2015
Slot machines could be coming to Pennsylvania airports, which is the result of a legislative proposal by Nick Kotik, D-Allegheny. The republican and chairman of the House Gaming Oversight has introduced a bill that would allow six airports based in Pennsylvania to offer gambling machines.
Extra revenue for a good cause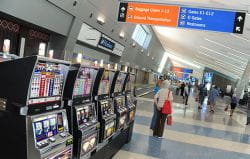 The thinking behind the proposal is to develop new income that would enable airports to boost their services, according to Kotik. Additionally, local governments could benefit from the profits generated by the
'airport slots'
. Charles Everett, executive director of the Lehigh Valley International Airport (LVIA), considers gambling machines at airports as a legitimate option to tap into new revenue streams.
Gambling in Hawaiian style
Currently, there are no US states that permit airports to offer slot machines. Nevada is obviously the exception as it's home to one of the world's leading gambling hubs:
Las Vegas
In January this year, Cindy Evans, Democratic member of the Hawaii House of Representatives, proposed a bill that would allow Honolulu International Airport to place slot machines. That was a surprising proposal given the fact that
almost all gambling in the state of Hawaii are banned
.