New Delhi Police detain 6 suspects for illegal gambling
06-08-2012
A group of six people has been arrested for alleged involvement in an underground casino. New Delhi Police officials detained the suspects inside a store located at Race Course Road. They confiscated computers, in addition to approximately $1,700 in cash.
Prison sentences and fines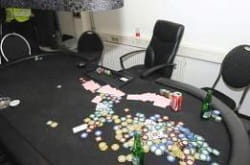 A 48-year-old man is believed to be the operator of the underground casino. He may receive a fine up to $50,000, in addition to a maximum prison sentence of 3 years. A police spokesperson revealed that the other suspects were gamblers. They face prison sentences up to 6 months and/ or maximum fines of $5,000. Last Friday, we informed you about
another case of illegal gambling in India
.
Illegal gambling
New Delhi Police are cracking down on illegal gambling, which is proved by this case. Property owners who enable operators to use their premises for illegal gambling activities can expect a visit from the police. Owners are responsible for their property and gambling activities are strictly prohibited.
Popularity of online gambling
Indians are not allowed to gamble, but the states of Goa and Sikkim allow gambling. There are 12 casinos in the state of Goa, while Sikkim has one gambling venue. Approximately 26% of Indian internet users gamble online, according to a recent survey by Ipsos. A vast majority of Indians access the internet to search for information, stream and download media, and for video gaming.