Middlesbrough College celebrates first gambling graduates
22-06-2013
Middlesbrough College is only the fourth college in the United Kingdom that offers NVQ level gambling courses. On June 14, the Teesside-based college celebrated the first graduated students. The festivities took place at the Riverside Stadium, home of
Middlesbrough FC
.
Successful course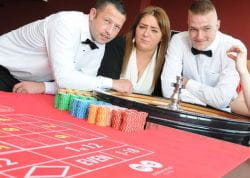 The gambling course is taught by Rob Kidd, who has spent over twenty years in the casino industry. Kidd revealed that the inaugural gambling training has proved to be successful. The first group of students encompassed a wide range of people, including jobless youngsters, an ex-member of the military and an ex-entrepreneur.
Gambling license
Besides
croupier
skills, the students have also learned about how gambling is regulated in the UK. Additionally, the course invited the competitors to apply for a so-called Personal Function License (PFL). This compulsory license is required for
employees who influence the outcome of gambling
.
Enthusiastic students
"The gambling course has provided the students with new opportunities. They have paved the way for an exciting career in the gambling industry. The opportunities include working as a croupier or bookmaker at gambling venues and
casino cruises
. The course has gone by quickly due to the students' enthusiasm," said Anthony O'Donnell, one of the developers of the training.