Miami-Dade authorities smash cockfighting operation
25-04-2014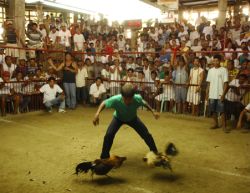 Miami-Dade authorities have raided a cockfighting ring in an agricultural area in Miami. Police arrested approximately 100 individuals who were involved in the
illegal gambling operation
. Besides the cockfighting ring, the suspects were also engaged in drugs activities.
Drugs, firearms and cash
Prior to the raid, undercover agents visited the site and purchased drugs. Yesterday, a police team raided the premises and caught nearly 200 people
betting on cockfights
. Some of the people carried a firearm, according to a police statement. Agents seized guns, drugs, cash, in addition to many roosters.
Big catch
Alejandro Queupumil appears to be the brains behind the
cockfighting ring
, according to local media. Most suspects arrested face multiple charges, involving illegal gun possession, drugs, clandestine betting and animal abuse. Cockfighting is quite popular in Miami, but Miami-Dade authorities consider yesterday's as a big catch.