Malaysian Police raid underground gaming hall
28-10-2012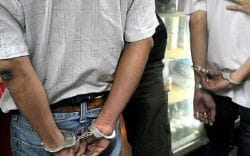 A group of 15 suspects have been arrested by Kota Sentosa Police in connection with an illegal gambling operation. Police officers raided a premises that was used for the underground gaming activities. The suspects had built a stand in which they offered illegal games. Neighbors had informed the police about the underground gaming activities on the premises.
Illegal gambling stall
A police spokesperson said that a group of gamblers fled the gaming stand when the police officers arrived. The punters used canned beverages as gambling tokens. Eleven gamblers, ages between 19 and 55, plus 4 alleged employees have been arrested, according to the police spokesperson.
Canned beverages as gambling chips
Police officers confiscated cash, in addition to beverages, a sound system, and sports equipment. The gaming stall enabled gamblers to buy canned beverages, which were used as gambling chips. Winning players would redeem the canned drinks for money. Talking about gambling chips, how about a
man who reportedly stole almost $180,000 in gambling chips
from various Las Vegas-based casinos.