Madisonville Police bust illegal gambling operation
22-01-2013
A Madisonville-based corner shop has been raided on suspicion of illegal gambling activities. Police officials seized 14 gambling machines from the MS Grocery Store. Gamblers only needed to hit one button to spin the reels of the 8-liner electronic machines. A police spokesperson revealed that illegal
slot machines
can be rewarding for both gamblers and establishments.
5 suspects arrested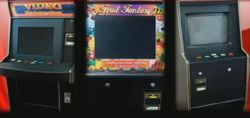 The illegal gambling machines were found inside a back room of the convenience store. Such 8-liner machines are strictly prohibited in Texas. Madisonville Police arrested 5 suspects, including Charline Grisham Scholz, Hector Noe Rodriguez, Qasim Saeed, Zahid Sattar and Delossantos Quiuber Lira.
Fake marijuana
Authorities believe that the MS Grocery Store also sells fake marijuana, called K2. Additionally, the convenience store allegedly sells alcohol to under-aged customers. Both the store employee and the operator of the bodega refused to comment on the matter. A police spokesperson added that the ongoing investigation would probably lead to additional arrests.