Lotto winner saves golf course
14-05-2012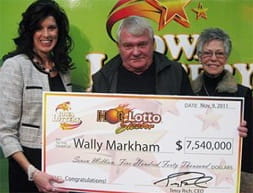 La Porte City resident Wally Markham, 65, won the Iowa Hot Lotto jackpot back in November. He was left with $3.5 million after tax, and some of this has now been used to purchase and refurbish the La Porte City Country Club and golf course.
A new lease of life
The sale of the ailing golf club was finalized in April, and has already undergone extensive renovations. This includes the resurfacing of golf paths, the addition of two new heat pumps and the refurbishment of the patio.
The club reopened on Saturday, and its new owner admitted that the only reason he'd bought it was for the community. "The city of La Porte should be happy with what they've got," Markham told the Waterloo-Cedar Falls Courier "The only reason I bought it was for them. They have a lot of people that like to play golf."
A bright future
Nevertheless, he still has plans for the future. Further upgrades will be made to the course, including new landscaping. Likewise, it seems he also hopes to build a new country club sometime – although by his own admission, he's not ready to do that just yet.