Lottery crook defrauds elderly woman
11-09-2011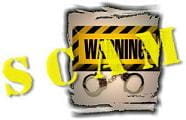 Carver Police have revealed a lottery scam. Jamie M. Ferreira used fake lottery tickets as collateral for loans. He has been charged with larceny. Ferreira promised the senior citizen that the lottery tickets would make her a multimillionaire.
Lottery scam
The victim lost a large amount of money, but the police refused to reveal the exact amount of the scam. In addition, the police noted that the victim is an elderly woman from Carver. The relationship to the crook remains unclear. A police spokesperson said that the woman was the only victim of the
lottery
swindle.
Innocent
"My client said he is not guilty and he is convinced that his name will be cleared after the investigation has been completed," Ferreira's lawyer commented. The bail was set at $100,000 and the case will be resumed in Wareham District Court on September 19.