Israeli gambling addict receives life sentence for murder
06-07-2013
Severe gambling debts can lead to extreme despair, including murdering your own parents. Israeli gambling addict Daniel Maoz killed both his parents in order to claim inheritance money. The 28-year-old problem gambler was desperate for money due to his massive gambling debts.
Bloodstains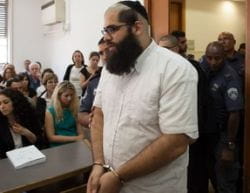 The Israeli lawyer now faces  life imprisonment after he murdered his parents two years ago. Maoz attempted to conceal the shocking crime, but he was detained nearly four weeks after the brutal incident. The
problem gambler
behaved strangely prior to the arrest, and bloodstains were found on his clothes.
Brother in crime
During the trial, Maoz claimed that his twin brother had committed the crime. Nir Maoz was first accused of the murders. Daniel also stated in court that he had failed to inform authorities as he feared his lethal brother. He had only helped his brother to cover up the crime, the 28-year-old gambling addict said.
Hunger strike
Justice has now been done as Daniel has been sentenced to life in prison. During the trial, the Israeli gambling addict went on hunger strike after he was refused a visit to the cemetery where his parents are buried.