Indian town scourged by illegal gambling
20-07-2015
Tandur, located in the Indian state of Telangana, used to be a peaceful town. However, things have changed as
all kinds of illegal activities have become a plague
that causes a lot of hassle for locals. Especially illegal gambling is happening at many locations across Tandur.
Toxic mix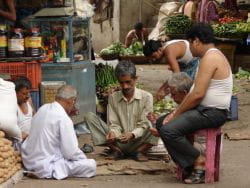 Resident complain about underground gamblers who also indulge themselves in alcoholic drinks. Criminals have converted many banquet halls into gambling venues, which even come with live music. Needless to say that the
mix of gambling, alcohol
, and loud music provokes quite some nuisance for the residents of Tandur.
Popping up like daisies
The owners of banquet halls are more than happy to allow
black-market gambling
events as they generate extra revenue. In the meantime, Tandur has become a real gambling hub, attracting plenty of punters from Hyderabad, which is only 72 miles away. Local police have already raided several illegal gambling dens, but criminals continue to set up new locations. Residents are urged to inform the police about any kind of black-market activity.