Indian police arrest illegal punters
18-06-2012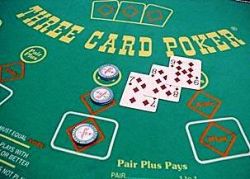 Seven Indians have been arrested for playing Teenpatti (3-card poker) from a Hyderabad-based house. The group arrested persons included citizens from Kummarbasthi, Jiyaguda, Panjagutta, Saifabad, Asif Nagar, Krishna Nagar and Kummarbasthi. Police officials also confiscated seven mobile phones, in addition to almost $600 in cash.
Huge potential
The Indian economy is growing rapidly, its middle class is expanding fast and an increasing numbers of Indians have access to the internet. Considering the popularity of
gambling
among Indians, it's surprising that it remains largely unregulated in the South-Asian country. In addition, the current gambling legislation fails to regulate both offline and online gambling.
Gambling taxes
Recent figures showed that a fully regulated online gambling market would value approximately $5 billion at current levels. European countries like Italy and Great Britain have regulated online gambling, which has resulted in new tax revenue. Gambling taxes generally range from 15 – 30%, which would mean for India up to $1.5 billion from the beginning.