Indian gambling addict made up abduction story
23-03-2016
Gambling is an extremely fun pastime, but some people take it too far. Meet Mali, an ordinary guy from Rajasthan (India) who loves to play games of chance. Things got out of hand and he
pawned his wife's jewelry to feed his gambling addiction
.
Made-up story about kidnap and assault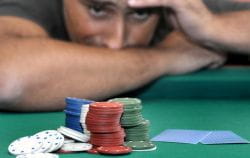 Mali didn't know what to do and claimed that he was abducted and robbed. He even reported the made-up crime story to the police. The
desperate gambling addict
was afraid to tell his wife that he had lost all their money gambling. For that reason, Mali told his spouse that three criminals kidnapped him and stole the cash from the mortgage.
Complete confession
The Indian gambler also filed a complaint at a local police department. However, investigators determined that Mali's story was lame on all sides. The 38-year-old man came clean and stated that both the abduction and
assault were made up
. He also told police officers that he had lost considerable amounts of cash gambling. For that reason he pawned his wife's jewels in order to obtain some money to gamble.