Indian gamblers assault police officers
21-10-2014
There's nothing more annoying than being interrupted whilst playing your favorite game. Various men were
gambling at a construction site
in New Delhi when two coppers arrived. Things got out of hand, and two gamblers assaulted the police duo.
Rescued by residents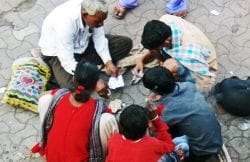 Besides gambling, the men were also drinking alcohol. The police officers asked the punters to leave, after which two of them became violent. They started throwing stones, and several residents arrived at the scene to help the coppers. Additionally, a group of other police men came to assist their colleagues.
Drunk and aggressive
The gambling men all live in the Dwarka district of New Delhi. They had enjoyed a dinner, followed by some alcoholic beverages. They got drunk and started gambling at the construction site. Due to their
drunken behavior
, two of them became aggressive. It remains unclear what kind of game they were playing, although some type of card game seems obvious.