Incredible gambling wins: Sean Connery's lucky number
10-10-2015
Gambling is definitely one of the typical 007 elements
, to be more precisely baccarat. Sean Connery starred in seven James Bond movies, but roulette is his favorite game. In 1963, the retired actor enjoyed a legendary streak at the Casino de la Vallee in Saint-Vincent (Italy).
Four winning bets in a row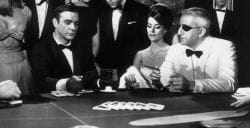 Connery decided to play his favorite game, and he wagered on number 17.
Lady luck
wasn't on his side during the first two rounds, but he struck oil on the third one. The Scottish actor felt confident and continued to bet on 17. Three winning rounds later, Connery's winnings had mounted to more than £10,000. Then he decided to call it a day.
Legendary streak
17 became a magical number for many roulette players in those days. Connery's winning streak was extremely rare given the 50,000:1 odds. In other words, if 50,000 gamblers bet three times in a row on a single number, only one player will enjoy a 100% score. Connery pocketed over £10,000 thanks to his
winning streak
, which would currently be about £157,000.