Incredible gambling wins: granny strikes it rich
08-08-2015
Gambling fans know that craps is one of the most exciting casino games. But what makes it so special? The fact that it's an easy game is definitely one of the most important reasons. A grandmother underlined that notion with a
staggering winning streak
.
Stunning craps session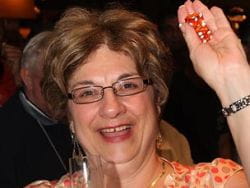 Meet Patricia Demauro, a granny who had played
craps
only once before she took the dices again in May 2009. She wasn't expecting much, but the Denville native surprised everyone with a remarkable streak. Demauro managed to win 154 times in a row. It remains unclear how much cash she collected with the $10 bet.
Wonderful choice
The unbelievable event took place at the
Borgata Hotel Casino in Atlantic City
. Demauro visited the gambling venue together with a friend. She first played some one-armed bandits while her buddy tried his luck at a poker table. He suggested to play craps as Demauro wanted to play a different kind of game. She did quite well despite the fact that it was only her second craps session.