Illegal slot machines found at Medina County internet cafes
05-06-2013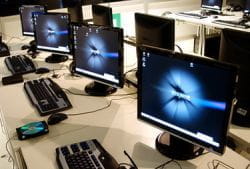 Authorities have performed raids on alleged gambling locations in Medina County. Illegal slot machines were found at Sharon Township-based Cyber City. Additionally, authorities seized illegal gambling machines from Cyber 777's in Brunswick.
Joint operation
Both owners of the
businesses disguised as internet cafes
have been indicted and accused of operating an illegal gambling business. Agencies and entities participating in these raids were: the Medina sheriff, Ohio attorney general, Brunswick police, Akron police, Fairlawn police and Summit County Prosecutor's Office.
Ban on storefront sweepstakes venues
There are about 620 cyber cafes across the state of Ohio. An increasing number of lawmakers had noticed that storefront sweepstakes venues were offering illegal slot machines. Therefore, John Kasich, the Republican governor of Ohio, has approved the legislation regarding the prohibition on those parlors.