Illegal online gambling at two Stockton-based establishments
24-04-2013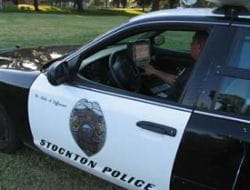 Three suspects have been arrested in an illegal gambling raid in Stockton, California. Police officers confiscated 20 computers, in addition to about $1,000 in cash.
Gang members
Both businesses offered illegal gambling, according to a police spokesperson. Two of the arrested persons are members of a gang and have already been in jail. One of the suspects has been arrested on suspicion of possession of marijuana.
$5,000 a day
Stockton Police are trying to ban these
underground gambling establishments
. The police spokesperson added that these businesses could easily make
$5,000 a day
. The computers seized will serve as evidence.
Disguised as ordinary stores
In addition, Stockton Police booked another suspect in a raid that also took place yesterday, which resulted in the seizure of 37 computers. Storefronts advertised themselves as offering computer and office services, but police say they were actually fronts for illegal online gambling. Besides those computers, police officers also recovered a sum of $1,000.