Illegal gambling machines found in Covington home
07-08-2012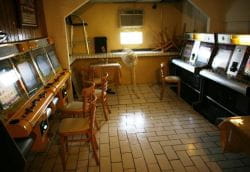 A duo from Covington, Tennessee has been detained after an illegal gambling raid. The 49-year-old Steven Uttz has been charged with gambling offenses. Police officers found illegal gaming machines at his house. Additionally, the 39-year-old Denise Whitehead allegedly operated the gambling activities and also worked as a cashier at the gambling house.
Illegal gaming
In another case, Jackson Police officers busted an illegal gambling operation inside two buildings. They seized twelve gambling machines and the owners of the premises face gambling charges. Neighbors had informed the police about the illegal gambling activities. Several barbecue businesses were located at one of the premises where police officers found seven gaming machines.
Gambling charges
In addition, police confiscated five gambling machines inside the former location of Ike's Disco. Both buildings don't have valid licenses to operate any kind of business. The seized gambling machines are prohibited in Tennessee. The owners have been accused of promoting and operating illegal gambling activities.