Illegal gambling machines found at 12 petrol garages
12-12-2012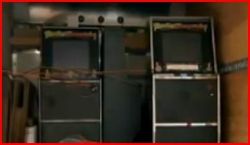 The Orange County Sheriff's Office and Metropolitan Investigation Bureau (MBI) have jointly raided 12 gas stations located in Orange County, Marion County and Osceola County. They found several casino-style slot machines at the petrol garages.
$1,500 a week
A spokesperson for the Metropolitan Investigation Bureau revealed that each slot machine would make about $1,500 a week. Authorities also detained several suspects connected with the illegal gambling activities. Among the arrested suspects were two gas station operators. Last week, Osaka Police busted an
illegal casino packed with slot machines
.
Blatantly gambling
Central Florida authorities initiated the investigation after a tip about the illegal slot machines at the petrol garages. The owners of the gas stations didn't try to hide the gambling machines. Everybody could observe the slot machines inside the gas stations. Gamblers had to insert money to obtain credits, and in case of winnings they could cash in the printed ticket.