Homes, hot tubs and wardrobes top UK Lotto winners' wish lists
18-05-2012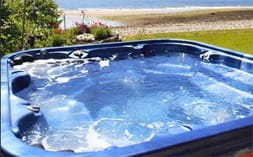 New homes, hot tubs, walk-in wardrobes and pets are among the first things UK lottery winners are likely to buy, a survey conducted by National Lottery operator Camelot has found.
Moving up the property ladder
Unsurprisingly, given Britain's love of property ownership, the survey found that around half of all big winners end up moving to a new home within three months of their big win. 9% purchase houses with a river or lake in their grounds, while 24% have electric gates at their new property.
Living in the lap of luxury
That being said, the results also showed that the newly rich weren't adverse to splashing out on more frivolous luxuries. 29% purchased hot tubs, while 28% had walk-in wardrobes. Other non-essential luxuries included games rooms (22%), snooker tables (17%), gym memberships (16%) and private bars (12%).
Pets over cleaners
Pets were also high up on the list of purchases, with 22% buying a dog and 4% buying cats. Interestingly though, only 30% bothered to hire a cleaner, seemingly preferring to do the housework themselves.
Tonight's EuroMillions draw will include a special extended raffle, which will see 18 people win £1 million each.