Hawaiian authorities raid underground gambling den
01-08-2013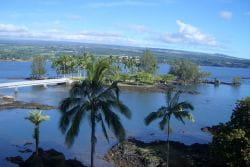 Hawaiian authorities say they've flushed out a black-market gambling business with the arrest of five people. The illegal gambling den was located in the town of Hilo, Big Island. Police officers seized eight gaming machines from Hilo Arcade, in addition to $1,447 in cash.
Female employees
Visitors could spin the reels of several slot machines at Hilo Arcade. Among the arrested individuals were two female employees. The two Hilo residents, 19-year-old Morgan Kamalei Kim and 23-year-old Nicole Enos, face charges related to
illegal gambling
.
Owners of Hilo Arcade booked
A spokesperson for the Hawaii Island Police confirmed the arrest of two men who operated the illegal gambling business. 27-year-old Cody Gilbert Yomes and 25-year-old Anthony Nakoa Areal both live in the village of Keaʻau. Additionally, Hawaii Island Police booked another Hilo resident. 19-year-old Ruana Garcia also works at the arcade gaming hall.