Harris County authorities raid underground gambling dens
26-08-2014
Law enforcement officers from the Harris County Sheriff's Department have detained ten people on suspicion of being involved in
black-market gambling
. After information about the illegal activities, undercover officers investigated the locations and confirmed the allegations.
Real money gambling machines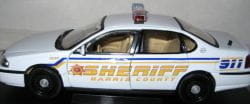 Deputies raided several game rooms that featured so-called 'eight-liner' gambling machines. Additionally, the investigation revealed that clerks made pay-outs to both winning customers and undercover officers. Investigators recovered multiple illegal gambling machines, and
recovered a sum of $73,200.
Anonymous complaints
All suspects face gambling-related charges. The Harris County Sheriff's Department underlined that they will continue their crackdown against
illegal gambling
. Citizens are urged to report such illicit activities. The cd4.hctx.net website gives residents the chance to file complaints anonymously.