Grimsby resident embezzled £137,000 to finance gambling habit
22-06-2015
A gambling addict manager at Premier Seafoods Ltd. is sentenced to two years and four months in jail. James Cartledge
embezzled £137,393
from the fish company in Grimsby. The money enabled him to enjoy a wealthy lifestyle packed with traveling and gambling.
Great financial strain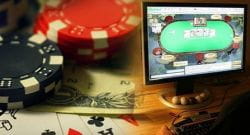 Court records show that the embezzlement had a massive impact on the firm, including two employees who lost their jobs. The fraud took place in the period between January 2011 and August 2013. Cartledge misused his position to
pocket money from the company
to feed his fondness for gambling and travelling.
Every inch an online gambler
The 33-year-old Grimsby resident mainly spent most of the stolen money on online gambling. Cartledge clearly lived beyond his means, and wagered huge amounts at online casinos. It's unknown if he prefers
slot machines
, table games or
sports betting
. Furthermore it remains unclear if Cartledge is undergoing treatment for his online gambling addiction.