Gambling tattoos: Smurfs-inspired slot creation
05-03-2016
Blue-colored slot machines are not very common in the exciting world of gambling. This week's gambling tattoo is a welcoming exception. The gambler in question seems to have a
weak spot for smurfs
given the color of his ink creation.
Tempting slot element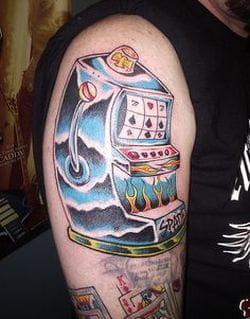 The one-armed bandit features several flames, three reels, and some buttons to start playing. It appears to be a video poker slot, while the light on top of the machine will start blinking if someone hits the jackpot. It's rather tempting to pull the lever on the left side in order to
spin the reels of this blue-colored slot machine.
Fan of card games
His robust arm also features other gambling-themed tattoos. In addition to slot machines, the gambler likes to play card games considering the creations on his underarm. That isn't much of a surprise as card games and slot machines are the most popular forms of gambling. These are some of the most played games both at land-based and online casinos: