Gambling tattoos: Skull playing in Las Vegas
16-01-2016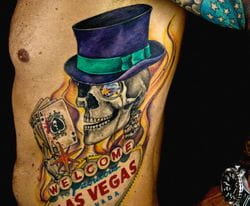 Every gambling enthusiast likes to visit Las Vegas due to the large number of impressive casinos. However, not every gambling venue in Sin City will be happy with skulls. This week's tattoo seems to prove the opposite as the
skull in question is enjoying a card game in a Las Vegas casino.
Badass or intellectual?
The famous '
Welcome to Fabulous Las Vegas sign
' is one of the tattoo's key features, but the skull is definitely the protagonist. He seems to be on fire given the flames in the background, while the hat adds a badass twist to his appearance. At the same time, the skull wears a monocle, suggesting that he's an intellectual who likes to gamble.
Two big passions
One question remains unanswered: what game is the skull playing? Additionally, the gambling fan in question also has a weak spot for tattoos. Along with the
Las Vegas
-themed masterpiece on his side, another massive tattoo covers his entire left arm. One thing's for sure: this man definitely loves his tattoos and gambling!