Gambling tattoos: Sexy croupier or stripper?
16-07-2016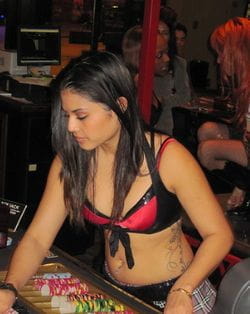 How about a casino with croupiers who look like strippers? That's exactly the kind of gambling parlor that we have visited for our weekly casino-themed tattoo. We must say that the result is striking as the black haired woman is
quite a sexy appearance
. It remains unclear if her inked masterpiece has anything to do with gambling, but that's a side issue.
Too hot to concentrate on gambling
The foxy lady is wearing a short skirt, and a bikini top or bra. He stunning black hair definitely steals the show, while her cool tattoo is another eye catcher. Heterosexual men will find it difficult to concentrate whilst playing at her table due to the woman's sex appeal. We have no idea what the people behind her were doing as we were too focused on our
lovely Latina croupier
.
Blackjack bikini-style
Visit the
Stratosphere Hotel & Casino
if you like to enjoy face-melting casino dealers in bikinis. The Las Vegas-based gambling resort features a pool area packed with bikini blackjack, which is only available in summer months. Additionally, the Hard Rock Hotel also allows you to play
blackjack
in the swimming pool area. Besides gorgeous bikini dealers, there's also top-class music to entertain gamblers at the
Las Vegas casino
.