Gambling tattoos: Roulette art packed with life motto
27-08-2016
Some people avoid challenges and take the easy way out, while others are willing to take risks. The latter group opts for the 'life is a gamble' motto, with the same applying for this week's gambling enthusiast. His
large tattoo leaves little to the imagination
, and roulette is without a doubt his favorite casino game.
Life motto of a thoroughbred gambler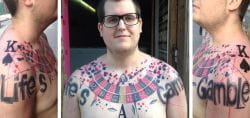 The bespectacled gambler decided to cover his chest, and shoulders with some body art that reflects his life motto. A piece of a roulette wheel
decorates his upper chest
, while the king of spades card can be found on both his shoulders, which means he also has a weak spot for card games. Additionally, the gambler's life motto is definitely all about taking risks given the
'life is a gamble' tattoo
that doesn't need any further explanation.
Classic gambling meets online equivalent
We are not sure if this gambler prefers to play at land-based establishment or online. If he likes both, live online gambling could be just what he's looking for as it
combines the best of both worlds
. Live online casinos offer players the excitement of authentic gambling with a modern twist. Enjoying the thrill of live online gambling can also be quite rewarding as
Scott from the UK found out when he collected a dazzling £287,010 in cash
at Royal Panda's
Live Roulette
table in a matter of just one week.