Gambling tattoos: Naughty monopoly masterpiece
19-12-2015
Who hasn't played monopoly not at least ones in his/ her life? The American board game features strange tokens, and was actually a
statement against capitalism
. Some people are hooked on monopoly, while others celebrate their beloved game with a cool tattoo. That's exactly the case with this week's gambling fan.
Fan or hater?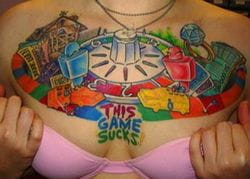 An unknown woman, wearing a pink braw, shows her monopoly masterpiece that is tattooed on an unusual spot. The colorful creation is centered right
above her modest rack
. Several monopoly symbols, including two cars, money bills, a diamond ring, and some buildings, represent the popular game. What makes this tattoo a bit contradictory is the statement 'this game sucks'.
Online monopoly excitement
Such a cherished board game certainly deserves an
online slot machine
. For that reason, casino players can win stunning cash prizes, whilst spinning the reels of a monopoly-themed slot. Almost needless to say that many online casinos offer a virtual variant of the fun board game, while there are also multiple monopoly apps for Android and
Apple
devices available.