Gambling tattoos: Lotto numbers picked by predatory bird
25-06-2016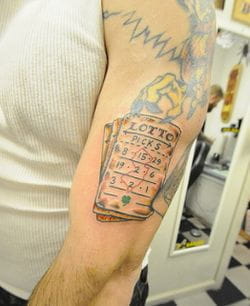 Lotto games are a prevalent entertainment activity among gamblers from all over the world. However,
selecting the numbers can cause serious headaches
. In that case, a bird may be the solution as it can pick the numbers for you. This week's gambling tattoo is themed around this 'concept'.
Surrounded by mystery
The inked masterpiece features three lotto tickets with only nine numbers. On the first one, three numbers have been marked, but it remains unclear why. Maybe they have a special meaning for the gambling fan in question. Or perhaps
he won a nice amount of cash thanks to those numbers
. One thing's for sure, the size of the lotto tickets makes quite an impression, while the green four-leaf clover speaks for itself.
Thief or assistant?
On the upper side of the lotto tickets, a predatory bird seems to be grabbing something. Was he the one who selected the marked numbers, or is he trying to steal the tickets? We'll probably never know, but the
gambling tattoo is certainly one to remember
. In addition to lotto tickets, the gambler also likes to spend time in the gym considering his powerful upper arms. Maybe there's a mystical connection between working out and lotto games?