Gambling tattoos: Las Vegas sign inspires
24-10-2015
You have to visit Las Vegas at least once in your life if you are a true gambling enthusiast. Indeed, Sin City is packed with impressive casinos that provide visitors with an unparalleled gambling environment. For that reason,
lots of gambling-themed tattoos feature a bit of Vegas magic
.
Sign as inspiration for tattoo lovers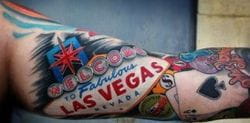 The 'Welcome to Fabulous Las Vegas' sign is definitely one of the most famous landmarks. Betty Willis was the brains behind the sign that was funded back in 1959. The
iconic logo
can be found on 5200 Las Vegas Boulevard, and it is an inspiration for plenty of gambling-related tattoos.
Firm upper arm in Vegas-style
This week's gambling fan decided to cover his entire arm with a tattoo inspired on the Welcome to Fabulous
Las Vegas
sign. The piece of art also features some cards and casino chips. It appears that the gambler in question also likes to work out, considering his robust upper arm. We consider the Vegas-themed tattoo a success, with the colors and details of the sign adding up to the appearance as a whole.