Gambling tattoos: Impressive rack of gambling items
05-12-2015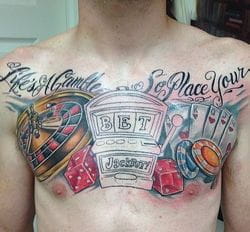 Saying that you have to bet in order to win a jackpot would go down as the understatement of the day. That same applies for the fact that life is all about gambling, and betting (risk-taking) is the only way forward. All these clichés were the inspiration for a
collection of tattoos on a young man's chest.
Great representation
Gambling is often associated with roulette,
slot machines
,
craps
, and card games. It doesn't come as a surprise that lots of gambling-themed tattoos are inspired by those associations. This week's tattoo consists of a roulette wheel, a one-armed bandit, two dices, a couple of chips, plus some cards.
Experience is the best teacher
Above those gambling elements you'll see the sentence 'Life is a gamble, so place your', with the word 'bet' on the reels of the slot machine. We must say that the result is quite impressive, especially the size of the tattoo. The colorful set of gambling-themed tattoos perfectly represents the concept of
taking risks in order to collect experiences
. We all know that experiences are the best teachers.