Gambling tattoos: Hot off the press roulette wheel
23-01-2016
Tattoos used to be common among sailors, and bikers, but those days are over. Nowadays it's hard to find someone with at least one piece of body art. Gambling is a popular theme among tattoo fans, and this week's creation is a
fine example of roulette passion
.
New trade mark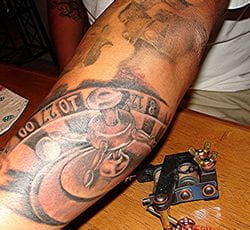 The tattoo machine right next to the man's arm suggests that the roulette masterpiece has just been done. It's no surprise that the owner wants to show his tattoo as the inked roulette wheel is a wonderful creation. The
life-like piece of art
is not only huge, but also sophisticated, and detailed. One thing's for sure, everyone will notice his craze for roulette when he wears a t-shirt of short sleeve shirt.
Popularity explained
You may be wondering: What makes roulette such an exciting game? Let's take a look at the main reasons behind its popularity:
Simplicity, it's an easy game to learn as the rules are simple
Social aspect, roulette players don't compete against each other, but they jointly enjoy their favorite game, which creates some kind of harmony
Online roulette, the internet equivalent offers lots of benefits, including comfort, the absence of a smoking ban, and the 24/7 availability
Excitement, the spinning wheel definitely produces a thrilling ambience
Many online casinos also offer multiple
live roulette
games, alongside with roulette games for mobile devices.