Gambling tattoos: Hooked on roulette 007-style
04-06-2016
Casino gambling is definitely one of the key ingredients of a James Bond movie. Actually, the twenty-first title is named Casino Royale, which tells it all. This week's gambler is a real 007 fan who chose three extremely realistic tattoos that are a
cool tribute to the British secret service agent.
Wrong protagonist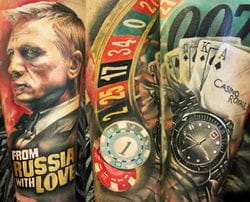 Let's kick off with the first one, which is themed around the film '
From Russia with Love
'. Sean Connery portrayed the character of James Bond in this second 007 movie. That's why it's unclear why the gambling enthusiast in question selected Daniel Craig for this tattoo. Maybe he or she believes that the English actor played James Bond in the 1963 movie.
007 roulette system
The second tattoo is all about
roulette
, which may be a reference to the 'James Bond' roulette strategy. This betting system requires a $200 gambling budget, and online casinos allow players to test this simple roulette strategy thanks to the free-play mode.
Poker against terrorists' banker
The last inked masterpiece is centered on Casino Royale, which comes with a touch of poker. Daniel Craig, who played the role of James Bond in this movie, takes on a shady banker who finances some of the world's leading terrorists. The
high-stakes
poker games takes place at Le Casino Royale in Montenegro. All three tattoos are very lifelike due to the highly detailed structure, which adds up to their impressive appeal.