Gambling tattoos: High-roller craps
23-04-2016
High-rollers are a special kind of gamblers as they spend a lot of money at casinos. Some of those high-stakes punters decide to get a
tattoo in order to honor their gambling style
. This week's masterpiece is themed around two dices and spending large sums of money.
High-limit craps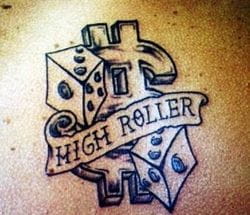 The huge dollar sign perfectly represents the concept of gambling for large stakes. Additionally, the two dices represent the punter's favorite game. Indeed, the craps player loves to throw the dices in an attempt to earn some cash. The words 'high roller' leave nothing to the imagination as the gambling fan in question likes to play
craps
with large amounts of money.
Defining characteristics
It's unknown where the tattoo is located and we don't know if we are dealing with a male or female gambler. One thing's for sure: the spot where you put an inked masterpiece says a lot about who you are as a person, while the type of tattoo is another defining characteristic. Gamblers obviously prefer an art work themed around their favorite pastime. Most gambling tattoos feature popular elements, including: