Gambling tattoos: Fully automatic monster slot
13-08-2016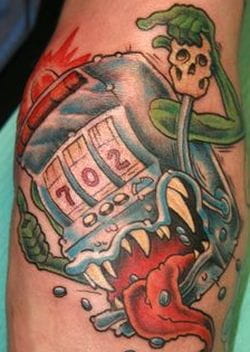 Some people say slot machines are nothing but evil as they gulp down all your money. This week's gambling tattoo perfectly represents that concept, but at the same time it shows that slots can be quite rewarding. This monstrous one-armed bandit is way
too cute to scare people
, overshooting the mark somewhat.
Las Vegas area code
The colored slot machine features two green arms, with one of them signaling 'thumbs-up'. This one-armed bandit is 'fully automatic' as itself pulls the lever. Additionally, the light at the top of the machine is blinking, which is always a good sign. Indeed, the slot is spilling out coins, while the combination 702 raises some questions. Does it stand for the
Las Vegas
area code? Or is the gambler's lucky combination? We'll probably never know.
Online slots packed with monsters
Speaking of monstrous slots, there are lots of
online slots
themed around those creatures. At
Royal Panda
for example, players can enjoy:
Monster Wins
So Many Monsters
Jekyll and Hyde
Creature from the Black Lagoon
The Dracula video slot is another popular title as the bloodthirsty was definitely a monstrous creature that could scare someone to death, literally…..