Gambling tattoos: Fruit machines still live and kicking
31-10-2015
Who doesn't like to spin the reels of an exciting slot machine? Indeed, you can't go wrong with a slot. Both online gaming sites and land-based casinos are packed with gambling machines, which continue to be a massive hit. This week's gambling tattoo is a testament to the
timeless magic of slot machines.
Slot sentiment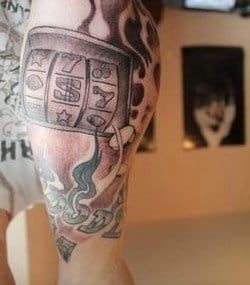 The gambling fan in question chose a mischievous gambling machine that is spilling out coins like it was 1999. Needless to say that three seven symbols award the jackpot, which is stating the obvious in the world of gambling. It appears to be a simple gambling machine that brings back memories of fruit machines that were equipped with a lever. Such slot machines are not only fun to play, but also a
cool feature in your living room
.
Fruit machines never die
Of course, most one-armed bandits have been replaced by innovative video slots. Nevertheless, good-old slot machines remain popular, including on the internet. Many online casinos offer classic slot games, like
Mega Joker
, Super Nudge 6000, Joker 8000, Jackpot 6000, Retro Reels, and many more. Despite the spectacular development of video slots, fruit machines are still live and kicking, both in brick and mortar casinos and online.