Gambling tattoos: Fitness freak in love with craps
11-06-2016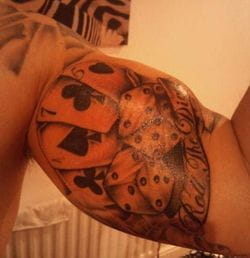 Some people get hooked on the gym, which obviously is an innocent obsession. In fact, an exercise addict usually has a muscular body, such as this week's gambling enthusiast. Besides fitness, he
loves to play card games and throwing the dice
, at which his big biceps come in handy.
Beloved casino game
The size of the gambling tattoo perfectly matches the man's huge upper arm. In addition to four playing cards, the inked masterpiece features two large dices. It should come as no surprise that this gambler has a weak spot for card games and
craps
. The slogan on the bottom, 'roll the dice', reveals his favorite game of chance.
More than $5 million in craps winnings
We can't blame the guy for enjoying craps considering the large payouts. In 2011 for example, the Tropicana Casino & Resort celebrated a winner of a $5.3 million bonanza. The fortunate gambler in question, who declined to be identified, collected most of the winnings at one of the craps tables. He treated casino staff to a $150,000 tip. A spokesperson for the gambling venue revealed that the winner loves
high-stakes craps
.