Gambling tattoos: Cool blend of gambling items
12-03-2016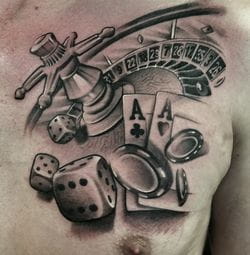 The quality of this week's gambling tattoo is superb, and the sophisticated items result in a striking creation. We are not sure why the gambler chose the spot above his left chest, but the selection of gambling-related items is definitely an
extraordinary creation
.
Mix of roulette, craps, and card games
Let's start with the casino elements that catch the attention of everyone who notices the highly detailed tattoo. These are the four gambling-related items:
Three craps dices
Two cards, including the ace of heart and the ace of clubs
Three casino chips
Hyper-realistic tattoos
The
lifelike tattoo
raises some questions as it may be too perfect. Are tattoo artists capable of creating such a hyper-realistic design? Experts claim that Russians have a reputation of producing ultra-lifelike tattoos. It's no coincidence that this gambling-related tattoo is in black and grey as both colors add a considerable depth to the ink creation. Other colors are much more difficult to capture.