Gambling tattoos: Cocktail of violence, card games and craps
30-04-2016
Skulls can be quite scary, especially if they have a weak spot for guns. Things get ever worse if they carry a baseball bat whilst gambling. This week's gambling tattoo is a fine example of a tough skull that has some kind of
fascination with gambling, cigarettes and violence
.
Smoking whilst gambling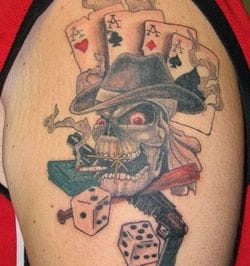 The hooded skull is definitely a creepy appearance at gambling tables, and someone who takes things very seriously. In case he's a sore loser, his firearm and baseball bat certainly come in handy. We don't think many punters will join the
gambling skull
that will probably ignore any smoking ban at gambling venues. Would you ask him to put out his cigarette?
Popular games of chance
Card games and
craps
appear to be his favorite games of chance, which isn't much of a surprise. Both forms of gambling are without a doubt among the most popular ones at casinos and gambling parlors all over the world. Players who prefer to gamble online can choose from a myriad of table games, such as:
Royal Panda
.