Gambling tattoos: Bold creation on bald head
27-02-2016
Some bald people like to show off with their shining skull, but a tattoo is a rather unusual substitution. This week's gambling enthusiast loves to play card games, which made him decide to immortalize his favorite pastime. It remains unclear if his
baldness is voluntary or naturally.
Reference to card trick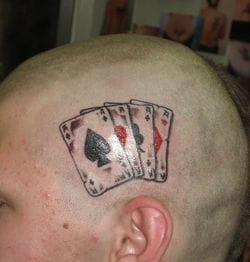 The gambling punk selected all four aces, including:
Spades
Hearts
Diamonds
Clubs
His selection could be a reference to the so-called 'four ace card trick'. This concept invites one spectator to split the deck into multiple piles, followed by the revelation that the aces have mysteriously moved to the upper position of the piles.
Everlasting magic of card games
Card games remain extremely popular among gamblers, both at land-based establishments and online. Most virtual casinos also offer live card games, which add an exciting dimension to online gambling. These are some of the most popular card games: