Gambling restaurant manager stole money at work
21-09-2013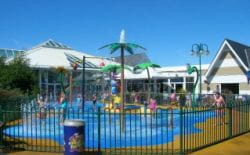 A gambler from Darlington, County Durham has been given a 12 month supervision order. Darren Rodgers stole £3,343 from the Cala Gran holiday park where he used to work. The 38-year-old man revealed he embezzled the money due to his out-of-control gambling habit. Additionally, Rodgers has to pay £520 in court costs.
Confession
Rodgers managed Papa John's restaurant, which forms part of the Cala Gran holiday park. The theft became apparent when park management discovered a £3,343 deficit. Rodgers smelt a rat and decided to stay home. The 38-year-old Darlington resident sent a text message to the park managers: "I have gambled away the  money due to my gambling problem. Tomorrow I will return to work."
Wrong decision
Rodgers' lawyer stated that his client was unable to create a balanced budget, which showed a £900 shortfall. For that reason, he headed to a casino to win some money. It turned out to be a wrong decision as he lost a large amount of money. Park management decided to fire the 38-year-old man, who is now trying to overcome his
gambling problem
.