Gambling problem leads to bank robbery
02-08-2012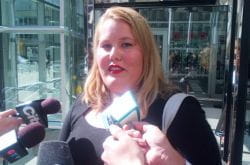 Meghan Melnyk, who recently resigned as the Mount Royal Students' Association president, is in trouble. The 27-year-old woman became addicted to gambling and even robbed a Calgary-based bank. Melnyk has now been found guilty of robbery and swindle.
Armed bank robbery
The robbery took place in February this year and the former student association president used a firearm to threaten a bank teller. Melnyk left the building with an unknown amount of cash, but police officers detained her shortly after the robbery. She revealed to have a gambling problem, which eventually resulted in robbing a bank. Melnyk is undergoing treatment for compulsive gambling.
Reports on gambling addiction
Gambling is fun for most people, but a small number of people become addicted. However, there are many effective treatments. Two weeks ago, we reported about a
gambling addicted police
officer who stole money at work. And how about a priest who used fake checks to steal about $240,000 from the church.